💝 2022 e-Kathina Offering Opportunity 🌸
🌱 We would like to present you with an opportunity to cultivate wholesomeness by making an offering through Kaṭhina Allowable Requisites to support monastics in Dhamma Earth Kuching (f.k.a Tusita Hermitage Kuching), Dhamma Earth Kuala Lumpur (f.k.a Semenyih Dhamma Earth) and Dhamma Earth Himalaya (f.k.a Tusita Nepal).
Kaṭhina Allowable Requisites, in the form of RM200 per share or by freewill, will allow every participant to take part in the offering of Kaṭhina Robe and offering four allowable requisites (robe, food, shelter and medicine) to the monks and nuns in the three monasteries. On the day of Kaṭhina celebration, devotees in each monastery will represent everyone to complete our good deeds of offering.
🎉 Let's join this e-Kaṭhina to celebrate and rejoice in the merits of the monastics in the threes monasteries.
👨‍👩‍👧‍👦 For those who would like to make an offering, please choose from one of the following options:
1️⃣ Bank Transfer
Bank: Hong Leong Bank
Account Name: Persatuan Dhamma Malaysia
Account No :017-0018-3673
2️⃣ Online payment l DuitNow (Please scan the QR code)
(Including e-wallet)
Account name: Malaysia Dhamma Society
3️⃣ S Pay Global (Sarawak Pay) (Please scan the QR code)
Account Name: Persatuan Dhamma Malaysia
💌 Notes: Upon bank-in/payment, please take a screenshot of the receipt/payment page and WhatsApp to the relevant PIC stating the details of donation:
+ Name of Donor
+ The Amount
+ Recipient References – Kaṭhina Dana
👩🏻 PIC: Dhamma Earth Kuching Finance Department +6011-1858 9266
May all beings be free from suffering!
May they be well, happy and peaceful!
May there be the blessings of triumph for all beings! 💪🌻💖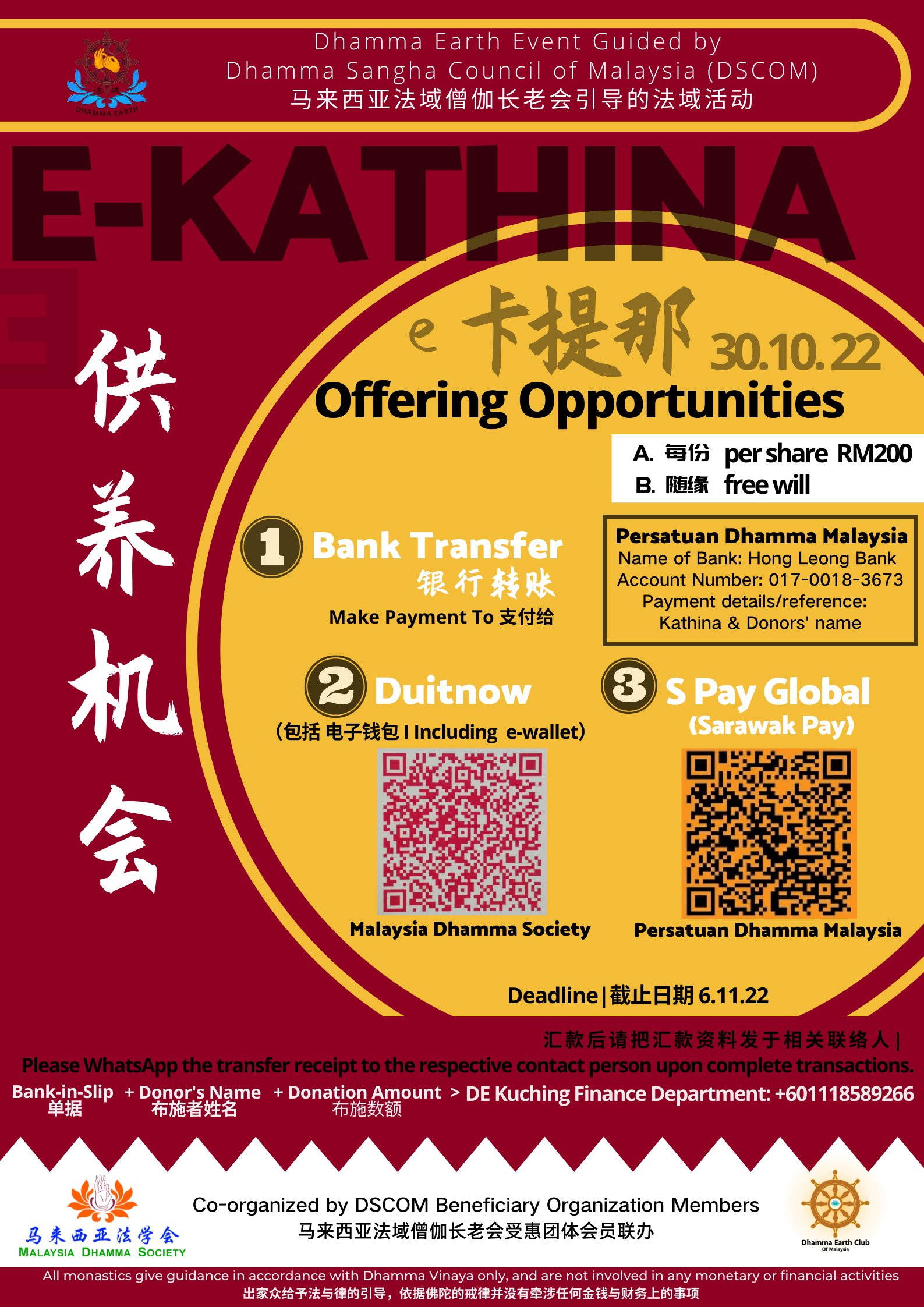 Sādhu! Sādhu! Sādhu! 🙏😁🌻